Apple TV+ suma más estrellas a la serie de competencia musical "My Kind of Country" y anuncia que su estreno mundial será el viernes 24 de marzo.
Apple TV+ reveló que los cantautores de country, incluido el nominado al Grammy y el nuevo artista del año CMA 2021, Jimmie Allen, la cuatro veces nominada al Grammy Mickey Guyton y el compositor, artista country y activista aclamado por la crítica Orville Peck se unen a la nueva e innovadora serie de competencia musical "My Kind of Country".
Los artistas se desempeñarán como exploradores que buscan en todo el mundo a artistas talentosos para encontrar a la próxima gran estrella del país. Reese Witherspoon y Kacey Musgraves aparecen en la serie, que se estrenará globalmente el 24 de marzo en Apple TV+.
"My Kind of Country" es la nueva versión de una serie de competencia, que rompe las barreras en la música country al brindar una oportunidad extraordinaria a artistas diversos e innovadores de todo el mundo. Los exploradores Allen, Guyton y Peck elegirán cuidadosamente a una lista de artistas emergentes excepcionales y los invitarán al lugar de nacimiento de la música country: Nashville, Tennessee, donde podrán mostrar su sonido único. El ganador de la competencia musical recibirá por parte de Apple Music un premio que le cambiará la vida, recibiendo un apoyo y una exposición sin precedentes en la plataforma.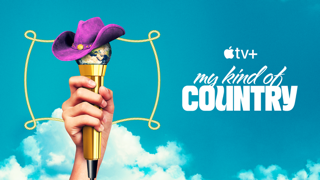 Witherspoon y Musgraves son productoras ejecutivas junto a Sara Rea y Lauren Neustadter de Hello Sunshine; Jason Owen de Sandbox Entertainment; la ilustre showrunner nominada al Emmy Izzie Pick Ibarra ("The Masked Singer", "Savage x Fenty Vol 3", "Dancing With the Stars", "Ladies of London"); y Katy Mullan de Done + Dusted ("The Disney Family Singalong", "A Legendary Christmas with John and Chrissy" de John Legend, "The Little Mermaid Live!", "Dear Class of 2020", Ceremonias de apertura y clausura de los Juegos Olímpicos de Londres). Adam Blackstone, ganador del premio Emmy, se desempeña como director musical (director musical de Justin Timberlake, Alicia Keys, Faith Hill, Rihanna y para el espectáculo de medio tiempo del Super Bowl, los Premios de la Academia, los Premios Grammy, "The Masked Singer").